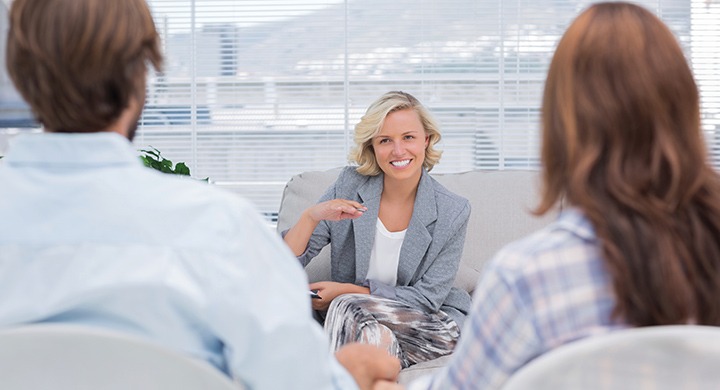 When marriages are facing reoccurring problematic issues, they may need the help of a professional to help them restore their relationship. Depending on the depth of the problems I would choose either Solution Focused Brief Therapy (SFBT) or Cognitive Behavioral Family Therapy (CBFT) to help the couple resolve their turmoil. I like SFBT because it focusses on learning skills to benefit the relationship going forward. The causes of the problems, however, are not emphasized in this therapy. It also provides a nice framework for analyzing and problem-solving long-standing relational issues. Also, SFBT is a brief therapy which promotes remediation in three to five sessions.  I would use CBFT for more severe issues pertaining to each individual. To determine severity, I would listen for instances of trauma or unhealthy attachment. The session would start with psychoeducation and engagement.  I then would progress to individual and family skills training. Finally, I would teach them how to apply what has been learned in previous sessions to the marriage.
References
Aronson, E. (2011). Social animal (11th ed.). New York, NY: Worth.
Brown, B. (2010). The gifts of imperfection: let go of who you think you're supposed to be and embrace who you are. Center City, MN: Hazelden
Fagan, P., Rector, R., Johnson, K., Peterson, A. (2002). The positive effects of marriage: A book of charts. Washington, DC: The Heritage Foundation.
Gottman, J. M., & Silver, N. (2000). The seven principles for making marriage work. London: Orion.
Lauer, R. H., Lauer, J. C., & Kerr, S. T. (1990). The long-term marriage: perceptions of stability and satisfaction. International Journal Of Aging & Human Development, (3), 189.
O'Leary, K. D., Acevedo, B. P., Aron, A., Huddy, L., & Mashek, D. (2012). Is long-term love more than a rare phenomenon? If so, what are its correlates?. Social Psychological And Personality Science, 3(2), 241-249. doi:10.1177/1948550611417015
Sternberg, R. J. (1986). A triangular theory of love. Psychological Review, 93119-135. doi:10.1037/0033-295X.93.2.119