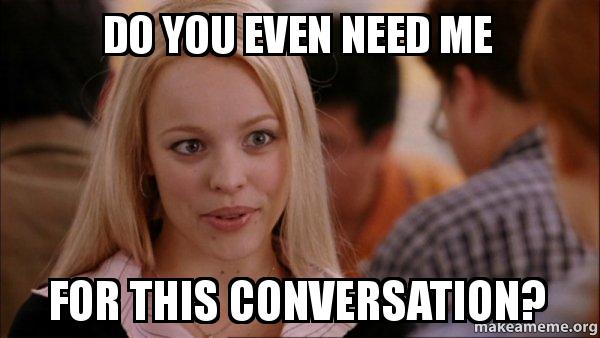 I used to blank out frequently during conversations with people. Usually right in the middle of a conversation.
It was frustrating, to say the least. A tragic combination of shame and helplessness would come over me.
I would have a hard time finding the right words. I would like to say something but I did not know what to say. And the craziest part was that the more I tried, the more I would draw a blank, which resulted in not having anything to say.
       Note: Sometimes silence is necessary and I will cover this in another article…
Outside, I smiled and nodded. But inside, I was going crazy. I just needed something to say!
"the more I tried, the more my mind blanked and I would have nothing to say."
If you can relate to this keep reading.
UNTIL I LEARNED A TECHNIQUE CALLED CONVERSATION THREADING
It's a technique you can use in any conversation. This allows you to relax and think easily about what to say next.
This is the basic concept: when you talk to someone, a thread is a word that interests you.
Anything that causes something in your brain: a memory, an opinion or a feeling, for example.
During a conversation, there will be dozens of discussions. So listen carefully. Each word can be a thread.
And spinning a conversation is simply pulling a thread with a statement or question. Then, when someone is talking, listen to a word that interests you and use it to continue the conversation.
So, for example, let's say someone says …
"TODAY I AM GOING TO THE PARK WITH MY DOG."
A short sentence but full of tons of information. In this sentence, there are 3 discussions that I could launch. And each of these opens a complete line of conversation.
YOU CAN TALK ABOUT TODAY
Today is the ideal day for the park.

Do you have any other plans for today?
YOU CAN TALK ABOUT PARKS
In what park did you go?

I went to Yosemite Park last year.
WHERE CAN YOU TALK TO DOGS
What kind of dog do you have?

Dogs are the best…

My friend has an awesome hunting dog.
This creates natural transitions from one subject to another.
Fluid and effortless conversations are the best. That's what we are aiming for.
Most people worry about what to say next. They end up not really listening and then all those rich conversation topics float away with the breeze.
Try to notice anything that wakes something up in your mind. Try not to filter and let the conversation flow.